Note: This blog was originally published on March 19, 2013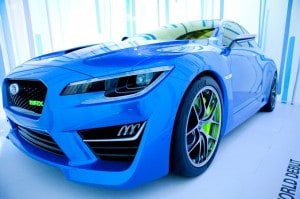 Introducing the 2015 Subaru WRX Concept Car! Subaru unveiled the 2015 WRX Concept at the New York Auto Show. The Subaru WRX Concept has a new design with a lower and wider body style giving this model a lower center of gravity and better aerodynamics.
The WRX Concept model has also undergone a weight reduction and its new design is meant to provide more downforce, a new Carbon Fiber Roof has also been added to the 2015 WRX. The WRX Concept front end is said to be shaped for a new turbocharged engine and intercooler – with the combined power of all four wheels the Subaru WRX concept should get maximum grip on the road fitting well with the rest of the Subaru AWD models.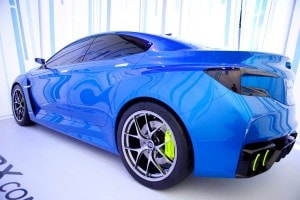 A new color for the 2015 Subaru WRX Concept in NY – as seen in these photos and at the NY Auto Show, the WRX Concept features a new distinct Subaru paint color called WRX Blue Pearl III which brings a modern twist to the iconic WRX look. Fluorescent Yellow is used to show an accent on the WRX Concept's badge and grill.
The 2015 Subaru WRX Concept is built with a much sleeker design that will surely catch your eye! We encourage you to complete the form below – let our Colonial Subaru dealership give you the latest news on the 2015 Subaru WRX Concept. Follow the 2015 Concept WRX as it makes its way to the next generation in production. Be the first to know when the 2015 Subaru WRX Concept in NY is available for pre-order!