Micky's Story
What does it mean to be an underdog? For Micky, a Shepard mix adopted from the Ulster County SPCA in Kingston, NY, during Subaru's Subaru Loves Pets campaign, it meant being a 9-year-old, black dog. Being a senior dog and being black were sadly already two strikes against Micky. To make it even harder on him, Micky had already spent 10 months at the shelter waiting to find his fur-ever home. The longer an animal resides in a shelter, the less likely they are to be considered "adoptable" by families looking for their next best friend. None of this took into consideration Micky's sweet personality, his easy-going manner, or his perfect companionship for anyone looking for a friend.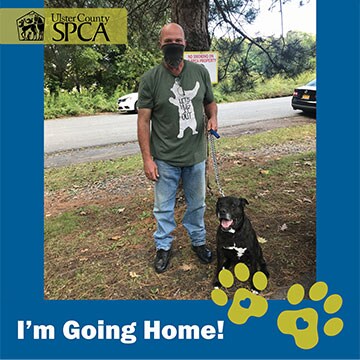 Lucky for Micky, he was showcased in promotional photos, and online and printed advertisements for Subaru Loves Pets. Within days, Micky had adopters interested in making him a part of their family. And within a week of the campaign spotlighting this sweet senior, Micky was adopted.
Micky now lives in Kingston, NY, with his adopter David, who says Micky is his best friend and a great dog. Micky spends his days relaxing at home, playing with David and running around in the field by their house, and is apparently a bit of a blanket hog, always stealing the covers at night. David also says Micky's companionship, his kindness, and his eagerness for friendship have helped David a lot, too. We are so very happy the two of them found each other, and are happy together.
The Ulster County SPCA is exceptionally grateful to the Subaru Loves Pets campaign, and to our partners at Colonial Subaru in Kingston, NY, for helping us find Micky and many other dogs and cats their fur-ever homes during the Subaru Loves Pets campaign!